The First! The Best!
Ganada Korean Language Institute
e-GANADA
Ranked #1 in sales of
Korean Language textbooks
over 30 years of
teaching Korean language
Perfectly designed online Korean lectures
Comprehensive Course
Elementary 1A Basic Koreans for
Super Beginners
Comprehensive Course
Elementary 1B Basic Koreans for
Super Beginners
Comprehensive Course
1A+1B Basic Koreans for
Super Beginners
Comprehensive Course
Elementary 2A Basic Koreans for
Daily Conversation
Comprehensive Course
Elementary 2B Basic Koreans for
Daily Conversation
Comprehensive Course
2A+2B Basic Koreans for
Daily Conversation
Comprehensive Course
Elementary 1&2 Basic Koreans
Basic Korean Grammar Course
for Beginner level1 Basic Korean
Grammar1
Basic Korean Grammar Course
for Beginner level2 Basic Korean
Grammar2
Basic Korean Grammar Course
for Beginner level1&2 Basic Korean
Grammar1&2
e-GANADA
offers a range of high-quality programs.
Enjoy our programs suitable for you.
Core lectures

Dialogue & Vocabulary
Grammar
Key Expression Practice
Memorizing Dialogues
<Speaking, Reading, Listening, Writing>
Practice

Live Korean videos, subtitles
Audio files for reading comprehension, answers
Audio files for listening comprehension, answers
Audio files for dictation, sentences
Words classified into categories, image, audio files
We understand your struggles when you study Korean all alone.
Start learning Korean with e-GANADA from conversation class to TOPIK class
▶ Our team consists of professional teachers who are all qualified to teach Korean and authors of the GANADA Korean textbooks used in lessons.
▶ It contains 30 years of teaching know-how.
▶ The qualified instructor explains thoroughly in English.
▶ If you ask any questions you don't know while studying, we will answer you clearly.
▶ You can see the same effect as an offline class.
▶ Based on your specific learning needs customized courses are available such as conversation, grammar, vocabulary, pronunciation, listening, practical korean(live korean), etc.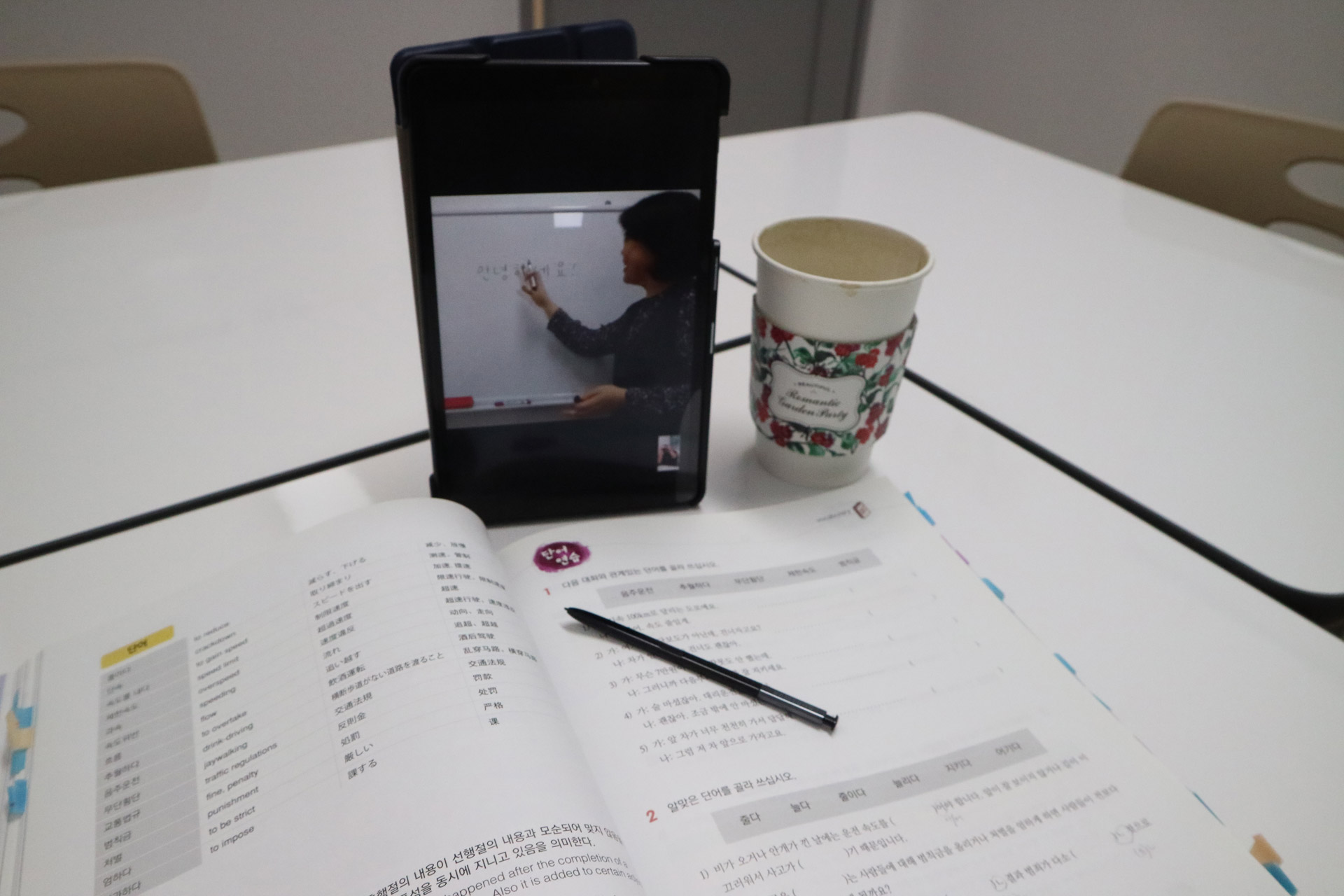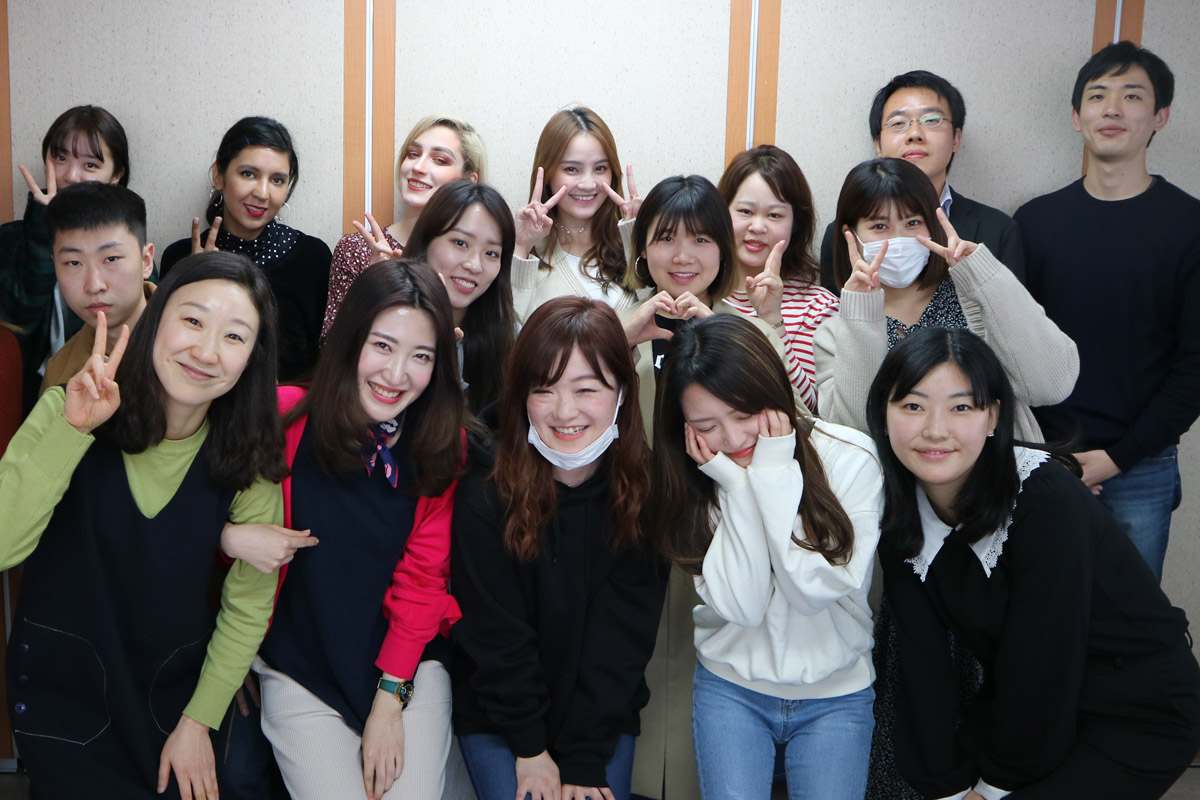 e-GANADAis
suitable for those ~
▶ who are absolute beginners in Korean.
▶ who have learned Korean long enough but not fluent and still struggle.
▶ who is looking for a systematic Korean learning.
▶ who are not confident with Korean pronunciation.
▶ who would like to make it clear Korean grammars already learned.
▶ who are preparing for TOPIK.
▶ who are preparing for coming to Korea for studying or looking for a job in Korea.
▶ who are eager to learn korean but it is not easy to find the right Korean academy.
▶ who want to review an offline class at Ganada Korean Language Institute.
e-GANADA
Enrolment Process
01

Sign in
/ Login

02

Find a course

03

Purchase Lessons

04

Start the lesson on
My Page
Comprehensive
course
student Benefits
10% discount on online/offline classes of Ganada Korean Language Institute

Audio & video files for the reading part

Audio & video files for the listening part

Audio & video files for 100 sentences of Dictation

Audio and video files for Vocabulary classified into categories
"I was an absolute beginner in Korean, couldn't even read Korean alphabet, so I worried a lot about online lectures. However, I was able to catch up without difficulties, thanks to the teacher explaining in slow and easy words. The best thing about online lectures is I can listen again and again. In terms of language learning, I think nothing beats practice and practice. After I build up confidence by studying by myself, I'd like to take one-on-one lesson and pick up my speaking skill."

"While considering how to study Korean language without going to Korea because of the covid 19, I came across this wonderful videos. I am so glad that I can study by myself, abd I'm looking forward to visiting Korea sometime soon."

"I studied beginner's level many times, but I wanted to organize what I had learned one more time. As I listened to the level 2 course repeatedly, I was able to clearly understand the parts that were confusing."

"There are many good things about a group study, but sometimes I am worried about what other people think about me. In video lectures on the other hand, I don't have to worry about other people. I even feel like the teacher explain me directly so I can totally focus. If you really want a good outcome, I think there is nothing better than video lectures."

"I'm currently taking class at Ganada Korean in Seoul. In class, it was a little embarrassing to ask questions about what had been covered already. So I signed up for this to review clearly what I learned in class."

"I'm working as an English teacher in Gwangju. I have no time to study Korean on the weekdays. The video lecture is not too burdensome, so I study on weekend and sometime in the evening whenever I can make time. I think I can make it a good habit to study Korean and master the beginner's level by myself."

"I don't have problem making easy conversations. However, without understanding about sentence structures and grammars, there is only so much I can speak. I tried to study on my own, but it didn't work out. So, I am watching this video lectures to straighten up my Korean grammar knowledge."

"It's been a year since I worked here in Korea, but my Korean is not getting better because people are mostly talking to me in English. In this video lecture, I can clearly listen to the teacher's perfect pronunciation. That way, I think I can correct my pronunciation and it is really fun to practice imitating the teacher's pronunciation and intonation."